NEW: Save time, Maximize Results and Smash Your Plateau With the Kettlebell Basics Premium Workout Series
Dear kettlebell enthusiast –
Are you working with limited time to workout and don't want to waste time with ineffective moves?
Are you looking for the absolute best kettlebell exercises to maximize results?
Are you stuck at a plateau that you can't seem to break through?
If you've answered yes to any of these questions, you owe it to yourself to keep reading.
My name is Forest Vance; I'm a certified kettlebell instructor and kettlebell gym owner based out of Sacramento, CA. I have a master's degree in Human Movement, multiple personal training certifications, and nearly a decade of experience in the fitness industry.  I want to start by telling you a personal story that I think you'll be able to relate to.
Shortly after my football career ended, going from being very active and eating like a horse, to being not nearly as active and still eating like a horse :), I gained a bunch of weight over the course of a few months.
I won't lie – I felt horrible. I needed to shed the excess fat – I didn't feel like myself at all.
Thing was, I knew how to train like an athlete, to get into football shape – but I had no idea how to train 'regular folks' (which I now was me) for fat loss and general fitness!
I spent hundreds of hours studying – and hundreds more testing various methods on myself – to figure out the best, most effective, and most time efficient methods to lose weight, flatten my stomach, and take the 'pain' out of dieting.
I ended up losing 64 pounds over the next 7 months – and this experience 'kick started' my personal training career.
The point? The key discovery I made – the 'turning point' that helped me strip the excess fat I had gained – was this:
A progressive plan is

the

key to continued progress in your training
Periodization, according to WikiPedia, is 'an organized approach to training that involves progressive cycling of various aspects of a training program during a specific period.' (In simple terms, it's just the organization and planning of training over time.)
In sport, this planning is typically based upon achieving maximum physical abilities (strength, speed, power, etc.) for a competition or period of competitions (i.e., a season). For 'regular', non-competitive athlete folks, it's just as important to organize and plan your training – the focus of the outcome is just different. For example, one might be working towards fat loss for a certain period of time, strength gain for another period, etc.
Workout programming for specific goals is going to be very different. A workout program focused on fat loss and conditioning would employ specific exercise selection, short rest periods and higher rep ranges. Conversely, a program focused on strength would feature longer rest periods and lower rep ranges.
The Typical Approach Of The Kettlebell/Body Weight 'No Gym' Enthusiast
Now, the typical method for the kettlebell enthusiast is to use the 'shotgun approach' – pick a random kettlebell workout for the day and do it.
While this may work in the short term (any new stimulus will typically provide results for at least a short period of time) over the long term, lack of workout planning will eventually slow your progress to a halt.
Obviously, you could figure this stuff out for yourself – and if you enjoy spending your time reviewing research, reading exercise science text books and learning the fundamentals of exercise programming, then I encourage it! More power to you.
On the other hand, you could save yourself a lot of time and money and leave the hard work to me 🙂
Now Introducing … The Kettlebell Basics Premium Workouts Series
With this program, you'll get progressivly planned workouts to take all the guesswork out of losing fat, flattening your stomach, gaining lean muscle, and conditioning your body.
You'll learn:
How to change your workouts up just enough to keep you from adapting – but often enough to measure your progress. You'll never hit a training plateau again!
Detailed instructions on how to properly perform, including an illustrated workout manual and custom video set, every premium workout
How to fit these workouts together into a logical progression (this is a very important – but often neglected – part of kettlebell workout program design)
And much more!
Now, the workouts, intensity and style-wise, are a lot like the ones I share on my websites, emails and YouTube channel. The main difference is, the workouts I share on my blog, on YouTube, etc. are sort of just 'random' workouts that don't fit together into a grand scheme. The Kettlebell Basics Premium Workouts will help you continually progress towards fat loss, lean muscle gain, improved conditioning, and total kettlebell training efficiency.
Here's a preview of what's inside:
Ready to pick up your copy? You have two options:
Option one is to grab the workouts 'à la carte'; you can get one or all the workouts with video and manual by themselves
You can pick up one or more of the premium workouts individually below for $9.95 each:
Monthly kettlebell workout one – 'kettlebell and bodyweight blaster' – Total body fat-blasting bodyweight and kettlebell combo workout
Order workout one by clicking here
Monthly kettlebell workout two – 'core training and cardio gasser' – Workout that'll 'fire up your core' and leave you smoked
Order workout two by clicking here
Monthly kettlebell workout three – 'killer kettlebell combo circuit' – One of my infamous kettlebell combo circuits – but broken down into a progressive and systemized plan to get the best results in the least amount of time from your efforts
Order workout three by clicking here
Option two is to pick up all the workouts together – plus a huge amount of additional goodies I put together for you – for one bargain price:
Here's what you'll get with the deluxe version:
1. Monthly kettlebell workout one – 'kettlebell and bodyweight blaster' – Total body fat-blasting bodyweight and kettlebell combo workout
2. Monthly kettlebell workout two – 'core training and cardio gasser' – Workout that'll 'fire up your core' and leave you smoked
3. Monthly kettlebell workout three – 'killer kettlebell combo circuit' – One of my infamous kettlebell combo circuits – but broken down into a progressive and systemized plan to get the best results in the least amount of time from your efforts
Plus, when you pick up the deluxe version, you'll also get:
4. My super popular best fat loss diet plan, grocery list, and food log – A totally 'done-for-you' fat loss meal plan.  You'll get the simple blueprint for fat loss success … and dozens of meals and snack recipes you can put together fast. Plus, you get a grocery list that makes your grocery store trip so easy … you'll never find yourself wandering the isles scanning nutrition labels and trying to figure out what to get again.
5. Functional flexibility secrets – A quick start guide that reveals why what you've learned about flexibility is probably all wrong … how to stretch for improved posture, better movement, injury prevention and optimum performance.
6. The 'Kettlebell RX' manual – About three common kettlebell training mistakes and how to fix them – fixes that have worked for many of my clients and that will surely work for you!! (This is in ebook, not video format – for those of you who've already seen the Kettlebell Rx video)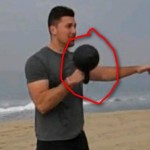 7,8 + 9.Three bonus bodyweight, dumbbell, barbell, and kettlebell workouts – These will keep you going for at least another twelve weeks after you're done with the first three workouts – you'll have six months worth of workouts at your fingertips you'll have planned out and ready to go!
10 + 11. Fire up your core 'bonus pack' – A copy of my no gym no excuse 5 min. abs manual plus a copy of the fire up your core e-book
Whew! 🙂 Okay, the deluxe version gets you all this stuff (fyi, if you were to go out and buy each of these individual products, the package would literally run you more than $100) – for only $37. Click the link below to order the deluxe package:
Check out what some customers of mine have to say about my kettlebell training programs:

'If You're Looking To Get Started With Kettlebells, Start Here' …

"I wish I had this guide months ago, before I went into information overload. This is the most concise guide I've found for starting out with kettlebells. If you are looking to get started with kettlebells, start here. The exercises are all explained very well. The workouts are extremely well put together with suggestions for progression as you improve. Thanks to the guide and the videos on kettlebellbasics.net, my form has improved in just a few days and I'll lose less training time due to bruised forearms."

-Trent C, Houston, TX

'A Great Starting Point For Learning The Basics Of Kettlebell Training' …

"This guide is a great starting point for anyone looking to start an excercise program that actually works. Kettlebell workouts are one of the most intense workouts I have every done. The quickstart guide is very informative and is great with the pictures and descriptions … I am down almost 15 lbs now. Its been a good thing. Kettlebells have definitely increased my strength and conditioning."

– Issac S, Sacramento, CA

'Great Instructor for Begining Kettlebells'

Having never really done any weight training before, I was hesitant to start up a kettlebell regiment. Forest did a great job of breaking down each exercise into step by step movements so that I could confidently understand what I needed to do. I am now addicted to kettlebells and so glad I had such a great introduction.

-Leslie, Sacramento, CA

'The Best in Sacramento Kettlebell Instruction'

Excellent kettlebell trainer! I had done a little training on my own before I found Forest. He coached me up on my form and now I can tackle more complicated exercises with ease. His fast paced combinations are a great cardio workout and leave me feeling smoked!

-Sean, Sacramento, CA
30 day, no questions asked, 100% satisfaction guarantee
One more thing: I'm so confident that you'll love my premium kettlebell workout program, I'm going to do everything in my power to make sure you order it right now.
I'm taking all the risk out of the transaction for 'ya – yep, this product is covered by my 30 day, no questions asked, 100% satisfaction guarantee.
If you sign up for the program right now, and if you're not satisfied for whatever reason, contact me at any time within the first 30 days of your purchase and I'll refund every dime of your money, no questions asked.
P.S. Planned progression of your kettlebell workouts is key for continued progress towards your fitness goals. Planning these workouts yourself is certainly an option; but if you'd like to save time and money and leave the planning to me, give my new Kettlebell Basics Premium Workouts a try.
P.P.S. I'm so confident you'll love this program, you can get all your money back within the first thirty days if you're unsatisfied for any reason, no questions asked.
P.P.P.S. If you're don't want to waste your time with ineffective kettlebell exercises and workouts, if you're looking to bust through your current fitness plateau, grab a copy of my Kettlebell Basics Premium Workouts series today!
NOTE: The Kettlebell Basics Premium Workout Series  is a downloadable product. After you order, you will get INSTANT ACCESS to download the e-book(s), bonus reports and videos onto your computer. No hard products will be shipped.